2023 State Legislative & Advocacy
April 17-18, 2023
Join us in the State Capitol!
Executive Directors, Board Members, and Legislative Staff are all invited to join CalCAPA and California Legislators for the upcoming CalCAPA State Legislative & Advocacy Summit April 17-18, 2023!
This is an opportunity for leadership to meet with Legislators to discuss the importance of Community Action in California. In addition to legislative meetings, there will also be trainings to prepare our members for their meetings in order to make the most of the meeting time.
CalCAPA will be hosting the Quarterly CSP Meeting on April 17th at 11am. If you plan to attend the meeting in person, please select "Attending" in the registration process.
If you plan to attend virtually, please register here.
Things to Note:
Use Code AG-INVOICE at check out to have your registration invoiced to your agency

There will be

no

virtual option for the training being held onsite or for streaming the in-person speakers onsite.

Registration closes April 7th, 2023 COB
April 17-18, 2023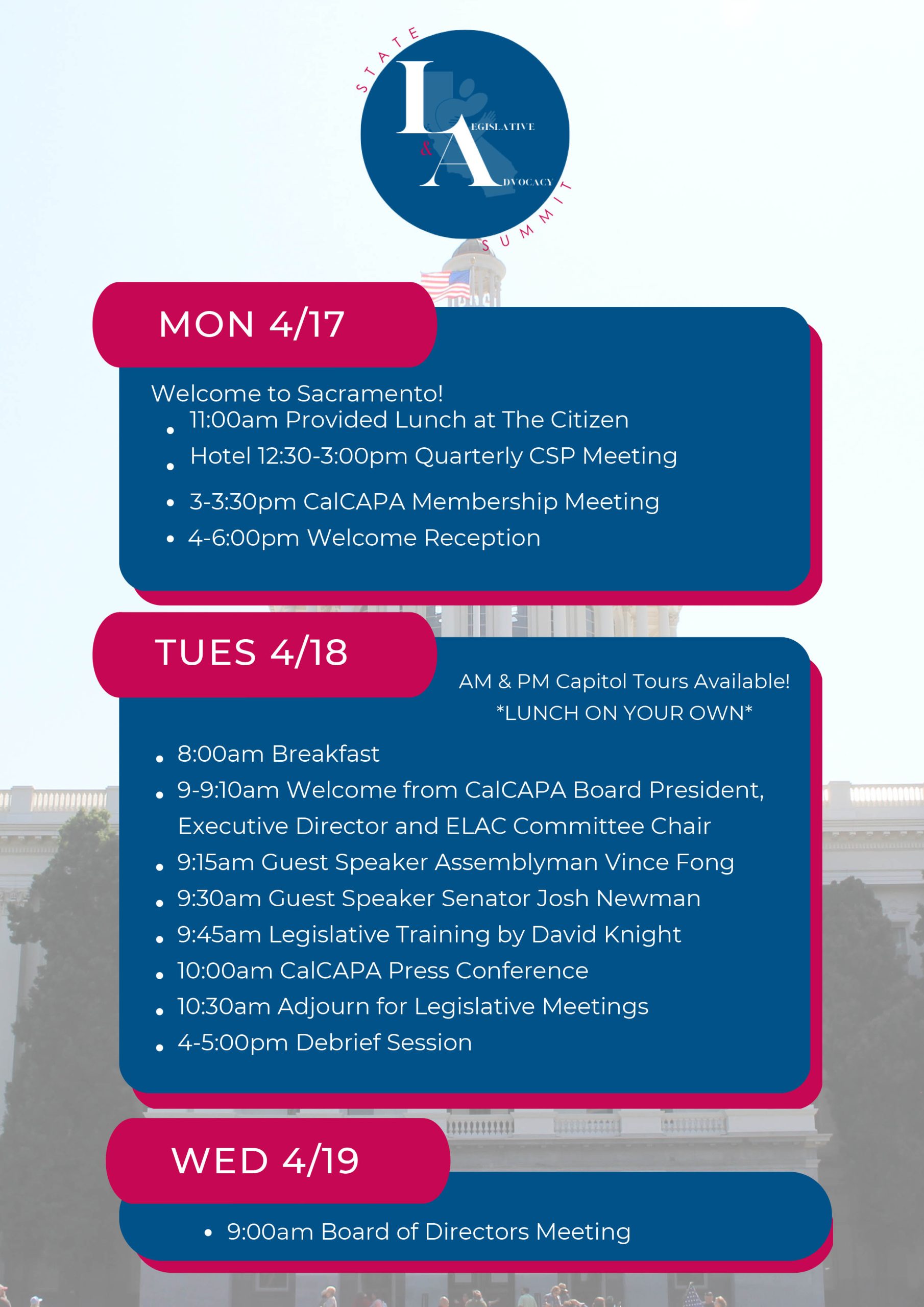 Travel & Lodging
All guests are responsible for booking their own travel. Valet parking is available at the Citizen Hotel. If you are flying, there are ride shares that depart from the hotel, as well as cabs and taxis.
Hotel booking link for the Citizen Hotel will be provided in your registration confirmation email.
The hotel booking link is reserved for confirmed individual registrations in order to ensure space is available for completed registrants.
Hotel reservations will be monitored by the CalCAPA staff. CalCAPA reserves the right to have reservations released if there is no correlating registration.
Questions? Email Jordan Coxe at jcoxe@calcapa.org